Samsung Galaxy Note 9 Repair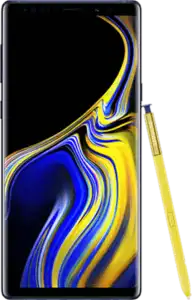 Samsung Note 9 Repair Prices
| Screen Repair | Price |
| --- | --- |
| Samsung Note 9 | $199.99 |
All prices are subject to change
Please call your nearest location to get pricing for Samsung Galaxy Note Repairs
Schedule a Repair Appointment
Schedule a Repair Appointment Online and Receive $10 Off Your Repair!
Samsung Galaxy Note 9 Repair
If your Samsung Galaxy Note 9 is in need of repair, you're in luck. There are plenty of options out there for getting your phone fixed. One option is to bring your phone to a Samsung service center. They will be able to diagnose and repair your phone quickly andefficiently.
Another option is to take your phone to a third-party repair shop. These shops are often much more affordable than Samsung service centers, and they can often do the same repairs.
If you're looking for a DIY repair, there are plenty of online guides and tutorials that can show you how to fix your phone yourself. This can be a great option if you're on a tight budget, or if you just enjoy DIY repairs.
No matter what type of repair you need, there is sure to be a option available to you. Just be sure to do your research before choosing a repair shop or service center, so that you can be sure you're getting the best possible service.
Galaxy Note 9 Screen Replacement
If your screen is cracked, then it's likely that you'll need to replace it. You can either do this yourself or have a professional do it for you. If you're comfortable with DIY repairs, then you can purchase a replacement screen and follow the instructions in this video. If you're not comfortable with DIY repairs, or if your screen is completely shattered, then you'll need to take your phone to a professional. We will be able to replace your screen for you and get your phone back up and running in no time.
Galaxy Note 9 Battery Replacement
If your battery is draining quickly or if it doesn't hold a charge like it used to, then you might need to replace it. This is a process that you can do yourself, but it is highly recommended that you bring your Note 9 to our professional service center. We have all the tools and expertise available to make sure your battery gets replaced without causing any internal damage to your phone